In order to fully collect the opinions of customers and understand the performance of Jia Yuan Garden Spring 2013 products in the terminal market so as to better put into the spring 2014 R & D links after the ordering meeting. On the evening of June 3, the company held the "Lady Garden 2013 Spring Product Communication Meeting" during the ordering meeting. More than a dozen clients from all regions of the terminal were invited to attend the communication meeting. Company Design Department, Marketing Department listened attentively and recorded the suggestions and comments of customers to Grace Garden Products.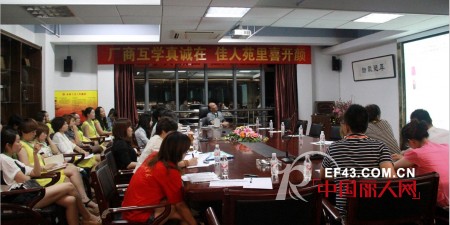 At the beginning of the conference, Liu Xiong, marketing director of Jia Yuan Garden, first conducted the analysis of the spring categories from 2012 to 2013 and ranked the sales of the 2013 spring models. Through the data analysis, the sales status of various types of products of Jia Yuan Garden was summarized. Next, all client representatives presented their spring sales in their respective regions and put forward various suggestions for improvement, such as recommending that the springwear should be made thinner and extend its life cycle. The selection of fabrics should be diversified. Brand highlights and more.
According to the customer's previous opinions, Zhou Lizhi, director of design of Jia Yuan Garden, put forward the R & D ideas of 2014 spring wear, made an analysis of the color, product structure and style, and made some adjustment plans for some projects. Finally, Ying-Zhong Ying, chairman of the company, outlined in his concluding remarks emphasized several points that customers emphasized. And confidence in the future of the brand.
In the next five to ten years of market competition, the company will be "a first-class brand name, build a solid terminal" as the core strategic objectives. Focus on continuing to expand the design and development team, to strengthen the design and development capabilities, improve the ability of the entire product planning and operation. Second, promote the brand culture, special service construction, improve after-sales service system. In the meantime, the Company will take the concept of "fast fashion" as the guiding ideology of operation and development and continue to improve its processes and efficiency mechanisms in terms of rapid development, quick procurement, fast production, fast information, fast convergence and fast service in light of its own characteristics make sure to join the return on investment partners, the creation of multi-party cooperation and sustainable new pattern of win-win market.
Weihai Jocund Home Textile Co., Ltd , https://www.jocundhome.com