[Ben.-Shoes and Life] Tennis, which is called together with the "Aristocratic Movement" with golf, has always been a sport in which intense competition and graceful posture have been maintained. Although tennis is not too early to enter China, we have to live up to expectations. The Chinese sister--Nan Jie aroused the Chinese people's love for tennis. In recent years, tennis has gradually become one of the favorite everyday sports. Then, do you know what brand of tennis shoes you have? Next, let's look at Xiaobian's recommendation list for the tennis shoes that you organize.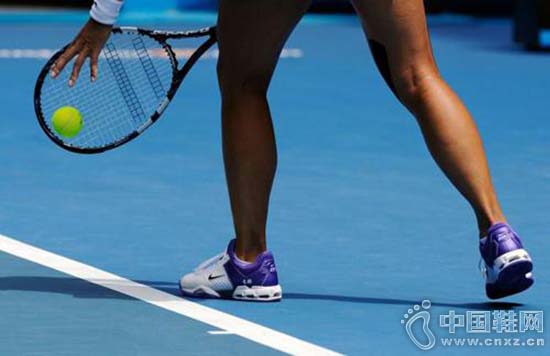 One of tennis shoes brands - WILSON
When it comes to which brand of tennis shoes is good, one has to mention WILSON first. This is one of the most popular brands for professional and amateur players. Philip Kochers Qi Lebo, Melanie· Odin and other are its loyal fans. WILSON is unique in that its interpretation of tennis culture can be properly integrated into any aspect of tennis. As the world's first tennis brand, Wilson Welsh has become a core carrier for the display of tennis art: it has excellent performance in tennis rackets, jerseys, related accessories, tennis shoes and other products.
The second brand of tennis shoes - K-SWISS (Kai Shiwei)
K-SWISS began in 1966 when the Swiss brothers Bonaparte created the world's first full-leather tennis shoe. Today, K-SWISS is almost synonymous with tennis shoes worldwide and is the recommended brand for tennis shoes. KSWISS always adheres to the concept of "KEEP IT PURE". After more than 40 years of development, K-SWISS has been welcomed by athletes on the field for its excellent quality and extraordinary performance. K-SWISS's tennis products are divided into: LIFESTYLE fashion leisure series, and Performance professional advanced and potential exciting tennis shoes. K-SWISS tennis shoes have always been meticulous in the selection of materials, design and function of shoes. They are the most elegant way to play an elegant and comfortable image.
The third tennis shoe brand - Nike
"Change everything with movement, just do it" This is the slogan of Li Na, who has won fame in China and even in the world for tennis. It's a slogan for Nike's endorsement. Whether it was Li Na's personal first Grand Slam Australian Open in 2011 or afterwards. In the French Open at the women's singles competition, Li Na's preferred tennis shoes are the Nike Zoom Breathe 2K10. This shoe is designed with a full-foot Zoom Air unit, and a light, lightweight rubber shoe holder. Wrapped inside, the shoes are breathable and have good stability. In addition to international tennis, Hewitt and Federer, Serena Williams, Rafael Nadal, etc. are also Nike advocates. Among them, Roger Federer and Maria Sharapova belong to the control series, while Ralph Nadal and Serena Williams belong to the power series. In general, Nike tennis shoes are light, comfortable, cushioned, and wear-resistant. Good support is known.
The fourth tennis shoe brand - Adidas
In tennis, a sport that needs to move, the sidesteps and small steps between two points need to be changed alternately. At this time, the most durable Adidas tennis shoe series in history – the Barricade is the one you can consider. Shoes too. This tennis shoe combines lightness and breathability, with a solid ADIWEAR 6 outsole and a solid claw to make movement fast and accurate. Wimbledon champion Andy Murray and Djokovic, the world number one, have chosen Barricade as their boots! And the Barricade tennis shoes have always been new and have now evolved into the eighth generation. Historically, they have worn this series. The star's biggest names include Haining, Safin, and Ivanovic.
Tennis Shoes Brand Six - New Balance (New Balance)
It is well known that New Balance is the world's leading brand of running shoes, but why does it appear in the list recommended by tennis shoes? Because New Balance uses the technology of running shoes in the design of tennis shoes, and thus the world's first multi-width selection Tennis shoes were born. The use of professional suspension technology, including N-ERGY and bzorb, helps players avoid injury during hitting. In addition, the new NON-MARKING technology unique to New Balance allows shoes to stay on the ground even if they repeatedly move in indoor venues. In addition, New Balance's tennis apparel and footwear products also use the new "Icefil" ice silk technology, which can effectively reduce the body temperature by 3 degrees. So many new high-tech shoes that bring together New Balance tennis shoes will definitely give you a different experience.
Five of tennis shoes brand - FILA (Fei Le)
The FILA brand is engaged in the development of products related to elegant sports such as tennis, snow drawing, golf, yoga and racing. From the moment of Björn Berger in the 70s to the new generations of Kuznetsova, Szawi, Tussanov, Tipsalevich, Andrés Seeby, and M. Vimic, FILA has always been Cooperation with top tennis players. In addition, FILA also cooperated with Wimbledon to jointly launch the new Fila Alfa series of tennis shoes. This new shoe has a superior configuration that will ensure the comfort of wear and continuous performance. And FILA's bright and bold design style, unique elegance and unique product efficacy have become one of Italy's most famous fashion sports brands and are known around the world.
Seven of tennis shoes brands - PUMA
The PUMA tennis shoes recommendation here is the French 77 series, inspired by the personal style of tennis legend Vilas, who has won 16 consecutive matches in the 1970s. The GV special is based on the prototype of the tennis shoes worn by Vilas at that time. Puma will improve it. The sole will be replaced with a new technology rubber coated sole, which is more wear-resistant and modern technology will make PUMA sports shoes. The function is more perfect. In color matching, the dominant colors of French 77 men are blue and black, and streamlined blending makes it easier to integrate with clothing. In addition, tennis player Becker and his opponent Wimbledon's green field is wearing a PUMA tennis shoes.
Eight of tennis shoes brand - REEBOK (Reebok)
Reebok's original meaning of the word refers to an African antelope, which is light and good at running. Reebok also hopes that you can experience the free running feeling of the antelope wearing the shoes of Reebok. Roddick, the backbone of today's tennis, is also a loyal supporter of Reebok. He is wearing REEBOK to maintain the world's fastest serve speed record. In addition to professional tennis shoes, many of Reebok's tennis shoes are now moving towards the casual shoes. For example, the Newport Classic, which was born in 1985, was originally a tennis shoe, and now it looks like it is moving The retro style developed, but at the time its circular toe design was the classic form of the early professional tennis shoes. The low-cut plus double rubber outsole and soft midsole helped to show the tennis's flexible athletic performance.
Tennis shoes brand nine - Li Ning
Having said so many foreign big names, let's support our own domestic products. With the opening of the first Grand Slam tournament in 2010, the Australian Open, the beautiful Melbourne Park has another Chinese player wearing the Li Ning brand. She is the youngest Chinese tennis player in China. The pride of the women's net - Peng Shuai! This is another big step taken by Li Ning in the investment in tennis. Peng Shuai will be side by side with the other three tennis stars: "Ivorian cannon" Ivan Ljubicic, "Golden Flower" Zhai Zi, "Chinese Little Brother" Yang Zonghua and Li Ning together convey tennis culture.
Tenth of Tennis Shoes Brand - Anta
Looking at Li Ning's gains in the field of tennis, Anta was not far behind and successfully signed to see Jankovic and Zheng Jie, the top female player of the Chinese Women's Network. Anta has been growing together with China's sports industry for many years, sponsoring CBA leagues, national volleyball leagues, etc., all hope to play a catalytic role in the development of China's sports industry, so ANTA's start-up tennis strategy is also the same, hoping to promote tennis in China. With the popularity, more people can enter the tennis court to feel the charm of this sport.
Through the introduction of the above ten brands, you should have a scale for your tennis shoes. I believe that in the near future, tennis will become more and more popular in China, and will be more liked by people. Perhaps you are the factor that drives people around you? (This site - the most authoritative and most professional footwear information center. Next: Sports Shoes brand Daquan)
· Old shoes don't stupidly throw away so that the shoes "open"
Put a physical insurance on your shoes
· How to clean the matte surface of the shoes?
· Breathable, antibacterial, deodorizing socks with it to avoid off shoes
·Sports shoes's little tail actually has these 3 functions you certainly don't
·High-heeled shoes audio sound? 4 coups to ease you learn a few
·How to choose shoes during pregnancy? Flat shoes are not safe
What should I do if my shoes become moldy
·Wearing these shoes in the summer will hurt you
· 9 tips to quickly learn to choose the right ride
Genuine Leather Baby Moccasins
Genuine leather baby moccasins are made by 100% quality genuine cow leather, suede leather, soft and comfortable, in variety colors and popular styles,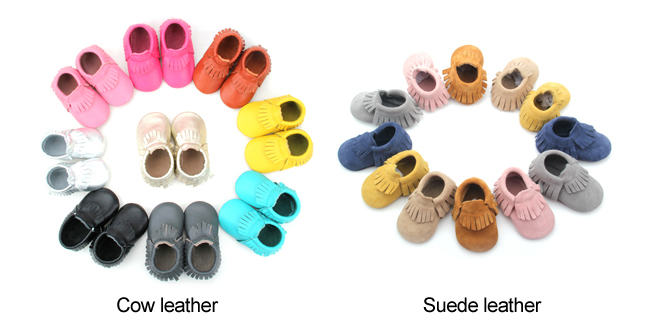 Genuine Leather Baby Moccasins Sizes
Mostly sizes we make for baby moccasins shoes are in 0-6month, 6-12month, 12-18month, 18-24month, and we also use hard rubber sole for Kids Moccasins in larger sizes beyond 2 years old,

Genuine Leather Baby Moccasins Styles
Baby moccasins always come tassels(fringes) styles, bow styles, also printing your own customized patterns on baby moccasins are also available.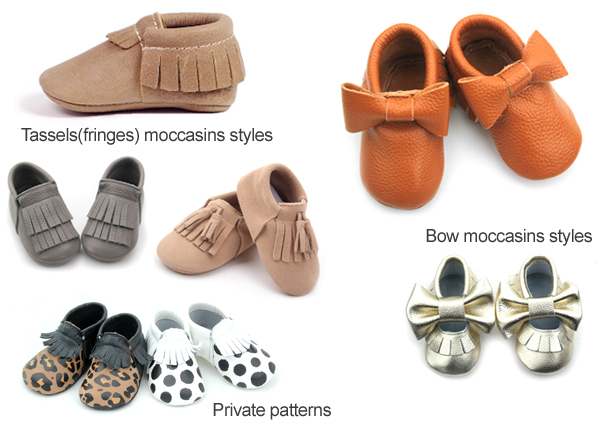 Genuine Leather Baby Moccasins Logo
Moreover, your OEM orders for baby moccasins are welcomed, our factory also provide logo printing & packing customizing service.

Genuine Leather Baby Moccasins Pass Customs Test
All leather we used for baby moccasins follow the requirement of US CPSIA policy, pass CUSTOMS TEST, Pb element less than 90ppm, safe and unharmful, eco-friendly.

Genuine Leather Baby Moccasins Bring Our Wishes
We trust that the baby moccasins we produce are as better as Freshly Picked, and we promise trying our best to help babies grow up well.
Genuine Leather Baby Moccasins, Moccasins Shoes Baby, Cute Fancy Baby Moccasins, Wholesale Baby Moccasins, Freshly Picked Moccasins
Shenzhen Baby Happy Industrial Co.,LTD , https://www.babyshoes.cc